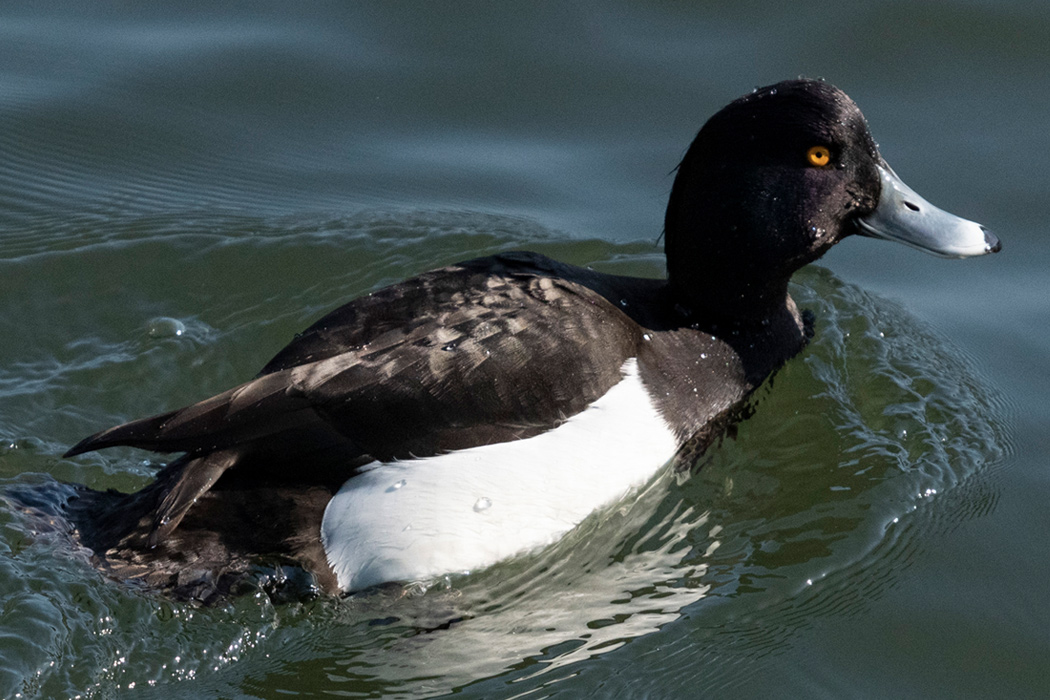 Tufted duck
Monotone duck.
| | |
| --- | --- |
| Scientific name | Aythya fuligula |
| English name | Tufted duck |
| Japanese name | Kinkurohajiro |
| Classification | Aves |
| Classification details | Anseriformes Anatidae |
| Full length | 40cm |
| Distribution | Breeds in northern Eurasia. It goes south to northern Africa and India. |
Characteristics
A duck with an impressive contrast between its black top and white belly. The male's head, back, and chest are all black, and his belly is completely white. The female has a brown belly instead of white. Both males and females have shiny purple mixed with black around their faces, and have crest feathers that extend from the back of their heads. It also features eyes with a yellow iris. The beak is gray with a little blue in it and the tip is black. When it spreads its wings, the upper half of the primary flight is white, which is the origin of the Japanese name "Hajiro".
Calls
It doesn't cry very loudly, but it makes a squealing sound.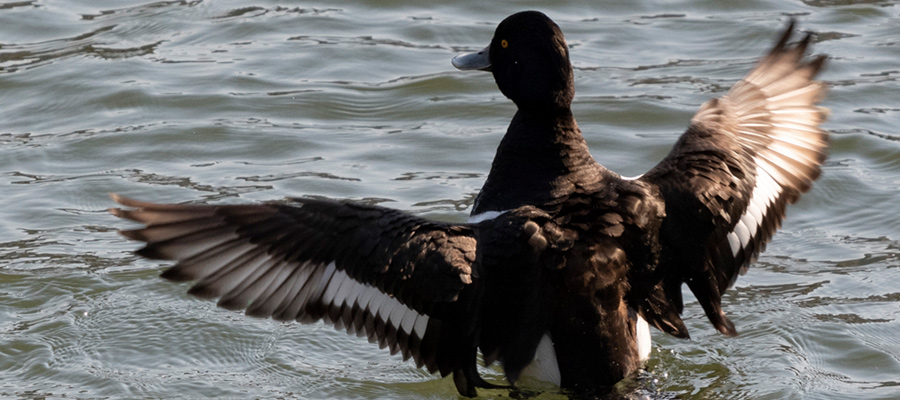 Ecology
It can be seen in rivers, lakes, and coasts as a winter bird. They eat various things such as aquatic plants, insects, and crustaceans. Moves on the surface of the water and dives head first when feeding. Many of them rest during the day and move after dark.
Habitat
I photographed a Tufted Duck swimming in the Sagami River in Kanagawa Prefecture. They were diving from the surface to feed. It seemed to hold its breath for quite some time and stayed in the water for several tens of seconds. There were only three males, and the female was in the shade under a bridge a little further away. After observing for a while, a male was swimming backstroke and scratching his belly with her beak. During the backstroke, the white belly was bare and defenseless, and it was kind of cute.
Pictures
Introducing a picture of Tufted duck.