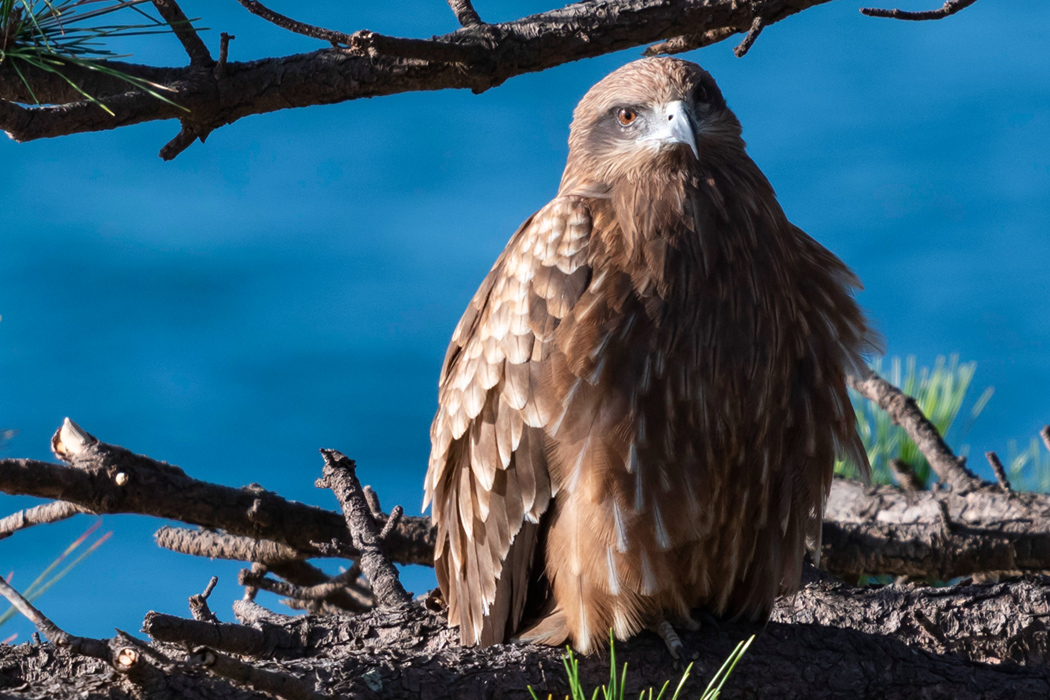 Black Kite
Cries in a high-pitched voice.
| | |
| --- | --- |
| Scientific name | Milvus migrans |
| English name | Black Kite |
| Japanese name | Tobi |
| Classification | Aves |
| Classification details | Accipitriformes Accipitridae |
| Full length | 60-65cm |
| Distribution | All over Japan |
Characteristics
A large hawk that reaches 160 cm when its wings are open. Also called dragonfly. The whole body is dark brown with a white band running along the inside of the wings. Its tail feathers are triangular in shape when in flight. The flight feathers spread like a human hand. The beak has a sharp hook like that of a hawk.It has good eyesight and searches for food in the distance while circling in the sky.
Calls
The call of black kite is characteristic and familiar to Japanese people. It cries with a high voice like a toy whistle called "pihyorororo".
Tobi is an excellent cleaner
Tobi is a scavenger who eats dead animals and garbage. Although it is a bird of prey, it does not actively target live prey, instead looking for carcasses and leftover food to eat. These traits are shared with crows, which is why they often fight with them.
Tobi Proverb
The proverb, ``Aburaage is stolen by a kite,'' comes from the fact that food is stolen by a black kite that has become less wary of people. Kites do not actively attack humans, but they are accustomed to environments with lots of people and leftover food, and as the saying goes, they may rush at food.
"A kite gives birth to a hawk" seems to indicate that the kite is seen as a lower rank among the hawks. This is probably because they have long been seen in large numbers near human settlements and scavenge for leftover food instead of hunting.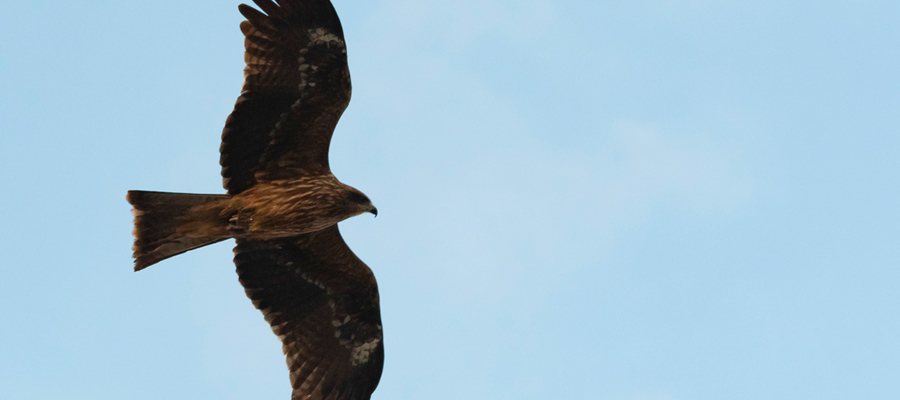 Ecology
They live mostly on coasts, but can also be found in rivers. Riding on the updraft, it searches for food from above without flapping its wings. It is omnivorous and feeds on dead animals, small animals such as frogs and mice, and individuals living near humans may eat leftover food. I've also seen individuals in the sea imitating ospreys catching mullet.
Habitat
Black kites can be seen around us, but the photo above was taken on the coast of the Miura Peninsula. A large number of black kites were flying over the Miura Peninsula, and they drifted slowly on the sea breeze. Dozens of birds were circling above me as they seemed to observe me closely from a distance. They may have thought I had food.
They are also found in inland rivers, but they are not so numerous. A specific individual comes out in the sky above the river in the early afternoon, and after flying for a while, it returns to the nearby forest.
Pictures
Introducing a picture of Black Kite.