 Crow swallowtail
Swallowtail butterfly with beautiful blue and green wings
| | |
| --- | --- |
| Scientific name | Papilio dehaanii |
| English name | Crow swallowtail |
| Japanese name | Karasuageha |
| Classification | Insecta |
| Classification details | Lepidopter Papilionidae |
| Full length | 45-80mm |
| Distribution | Distributed nationwide from Hokkaido to Kyushu. |
Characteristics
A swallowtail butterfly with beautiful glossy green and blue on a black background. The origin of the name comes from the fact that it shines like the color of wet feathers of a crow.It looks black in flight, but bright colors appear when the light hits the surface of its wings. There is a red stripe at the base of the hindwing. In addition, there is a part with a slightly matte texture around the center of the forewing. The underside of the wings is black overall, with several red spots near the margins, and the tips of the forewings are slightly whitish. The caudate process is also very gorgeous.
It doesn't fly that fast, and even if you get close to it, it won't fly away. In the sun, they sometimes perch with their wings open.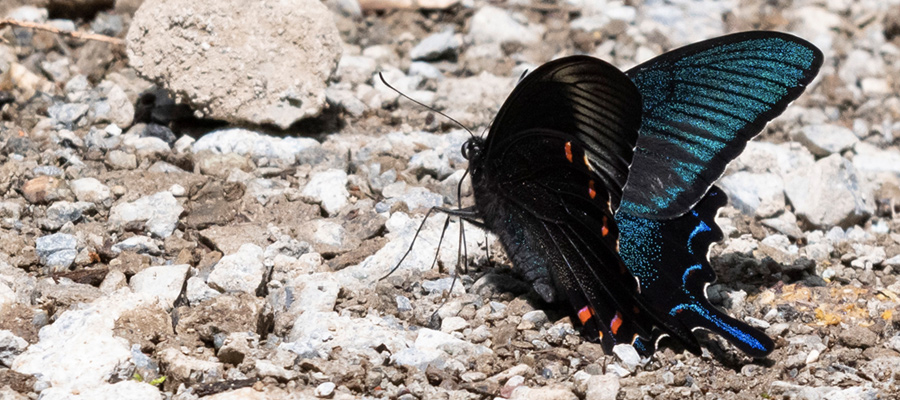 Ecology
From spring to the end of summer, it can be seen around forests with river valleys such as mountains. Rarely seen in urban areas. They perch on flowers to absorb nectar, or absorb water on damp ground. The larvae eat grasses such as Japanese pepper and white heron.
Habitat
Found in a forest in Hachioji city. It was a weekend in a week of rain, and it was soaking up water on wet ground and in the sun. In addition, it was the ground where various kinds of butterflies, such as black swallowtail, red-eye butterfly, and red-tailed butterfly, gathered. When the sun was getting stronger, it would open its wings and stay still. It was so beautiful to see it fly.
Around Golden Week, I saw them flying over streams and descending to the ground of riverbeds to absorb water.
Pictures
Introducing a picture of Crow swallowtail.