 Common Teal
Also good at diving smoothly.
| | |
| --- | --- |
| Scientific name | Anas crecca |
| English name | Common Teal |
| Japanese name | Kogamo |
| Classification | Aves |
| Classification details | Anseriformes Anatidae |
| Full length | 34-38cm |
| Distribution | Breeds at high latitudes on the continent and migrates throughout the country as a winter bird. |
Characteristics
The smallest duck found in Japan. The head is brown and the body is grey-brown with mottled patterns. The wings are dark brown with white margins. Legs are black. They are very cautious and will run away as soon as they sense danger.It has been eaten together with mallard since ancient times.
Differences between male and female teal
In the winter plumage, the male has a brown head with a green tint. Females are generally dull brown, and the color of the head and body does not change.
Calls
The male makes a small whistle-like sound. Females make a "que" sound.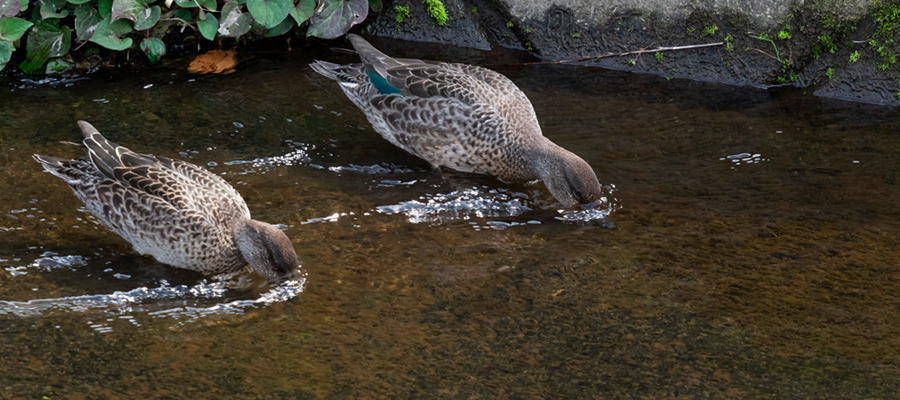 Ecology
Lives in rivers and lakes. They come to Japan during the breeding season in winter and are actively displayed. It eats waterside plants and algae. It eats with its beak along the riverbed and rocks. Walking in shallow rivers in small flocks of several pairs. Quickly dive and move when you feel danger.
Habitat
In winter, many come flying along the Yudono River in Hachioji City. Eating algae in shallow water. They are more cautious than other ducks and will run away if they meet their eyes.
The photo above was taken while I was taking a nap in the afternoon.
Pictures
Introducing a picture of Common Teal.