 Cocktail wrasse
The pattern of the male is impressive.
| | |
| --- | --- |
| Scientific name | Pteragogus aurigariu |
| English name | Cocktail wrasse |
| Japanese name | Ohagurobera |
| Classification | Actinopterygii |
| Classification details | Perciformes Labridae |
| Full length | about 20cm |
| Distribution | Shallow reefs and seaweed beds. |
Characteristics
Wrasse named after the black face of the male.
Males and females have different body colors. The male has a greenish-brown body with yellow-edged scales. Around the face there is a pattern like kumadori. Females are brown in color.It is tall and has a large mouth. There are teeth protruding from the tip of the mouth, but they are not black. The rim of the mouth is yellow. It has nine spines on its back.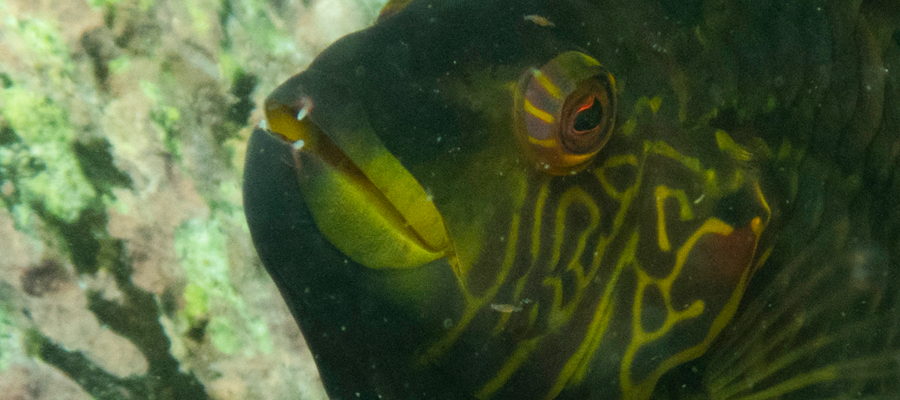 Ecology
Lives in rocky areas and seaweed beds, acts alone, and eats small animals such as crustaceans. The larger individual becomes the male.
Habitat
Miura Peninsula Arasaki
Found at Arasaki Reef. It was swimming leisurely between rocks at a depth of 3-4m. It was like eating a small animal attached to a rock. The pattern on its face looks a little eerie when viewed underwater.
Pictures
Introducing a picture of Cocktail wrasse.