 Wolf mantis
Catch prey with sickles on front legs.
| | |
| --- | --- |
| Scientific name | Tenodera aridifolia |
| English name | Wolf mantis |
| Japanese name | Okamakiri |
| Classification | Insecta |
| Classification details | Mantodea Mantidae |
| Full length | 68-95mm |
| Distribution | All over Japan, Southeast Asia |
Characteristics
Japan's largest praying mantis, some of which are over 9 cm long. It resembles the mantis, but is characterized by a yellow spot at the base of its front legs. The color is green and brown, and those mixes are seen. It is considered a protective color that matches the environment in which it lives. Females are larger and prey on males after mating.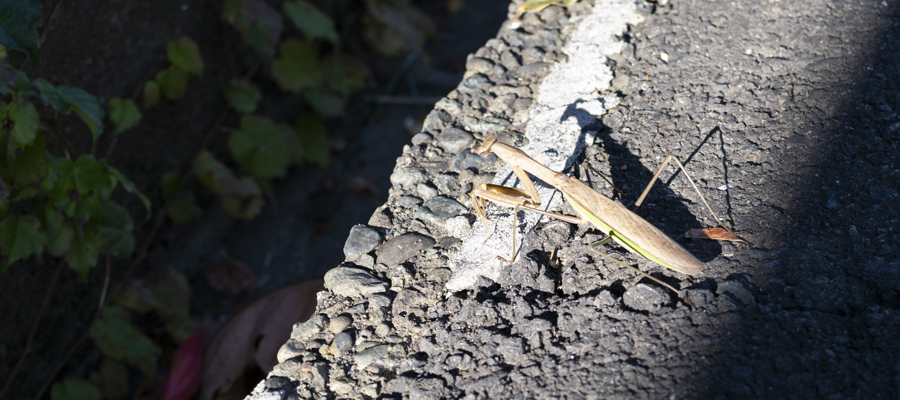 Ecology
It hatches from March to April. About 200 larvae are born, and they grow by moulting while sometimes cannibalizing. They also prey on insects such as grasshoppers and small reptiles. When it senses danger, it opens its front legs wide to intimidate. It prefers a sunny environment, but is also active at night. They are often found clinging to the walls of homes looking for places to lay eggs. After mating, a foamy egg sheath is laid.
Habitat
Roadside in Autumn
I found it on the roadside in Hachioji City. It was autumn and it was getting a little colder, so it seemed to be slow and weak.
Since ancient times, you could find a praying mantis if you searched the hedges of the park. Even after summer is over, if you look carefully for grassy areas and concrete walls, you can still come across a praying mantis choosing a place to spawn.
Spring park
I found a 5-6 cm larva on a leaf in Katakura Castle Ruins Park. It was a larva, but its sickle was strong.
Pictures
Introducing a picture of Wolf mantis.