 Long Tail Spangle
It is characterized by thin black wings and a red patch on the hind wings.
| | |
| --- | --- |
| Scientific name | Papilio macilentus |
| English name | Long Tail Spangle |
| Japanese name | Onagaageha |
| Classification | Insecta |
| Classification details | Lepidoptera Papilionidae |
| Full length | 50-68mm |
| Distribution | Distributed from Hokkaido to Kyushu. Also distributed in East Asia. |
Characteristics
A large black swallowtail butterfly. It looks a little bigger than the swallowtail swallowtail. The forewings are long and narrow, giving the silhouette a resemblance to that of a musk swallowtail. The outline of the hind wings is wavy, and there is a crescent-shaped red crest to match the waves. It is also characterized by a long caudate process. The rim is slightly white. The forewings are lighter black than the hindwings.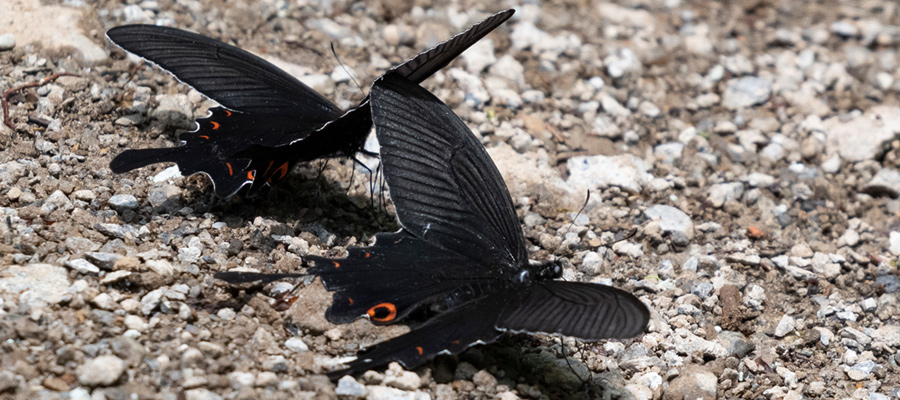 Ecology
Adults emerge from around April and can be seen until autumn. It is often seen along streams in mountains rather than in urban areas. In addition to absorbing water near the ground, it sucks nectar from flowers such as azaleas. Larvae feed on citrus plants. It can be seen in small egrets and Japanese crows.
Long-tailed Swallowtail and Musk Swallowtail
The Chrysanthemum Swallowtail is very similar in color and overall silhouette to the Musk Swallowtail. It is thought that it prevents predation by mimicking the poisonous musk swallowtail.
Habitat
I took a picture of water absorption on a forest road along a stream in Minamiasagawa-cho, Hachioji City. There were many other butterflies, such as the crow swallowtail and the redtail butterfly, but only the long-tailed swallowtail was in a group of several. After all, compared to the swallowtail, it looks larger, and I got the impression that it was elegant with the long caudate process.
Pictures
Introducing a picture of Long Tail Spangle.