 Honshu pipefish
Caudal fin screaming.
| | |
| --- | --- |
| Scientific name | Doryrhamphus japonicus |
| English name | Honshu pipefish |
| Japanese name | Nokogiriyoji |
| Classification | Actinopterygii |
| Classification details | Gasterosteiformes Syngnathidae |
| Full length | about 7cm |
| Distribution | Pacific coast. coastal area of Asia. |
Characteristics
Thin light blue streaks run through its long, yellow body. The caudal fin is dark brown with three yellow spots. looks like she's screaming There is a brown band extending from the snout past the eye.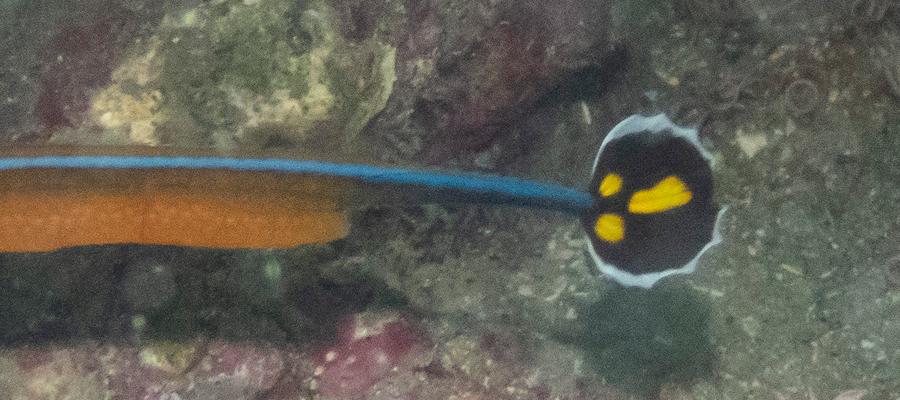 Ecology
Inhabits rocky reefs and tidal pools in shallow waters. They often hide under rocks. The individual I took in the picture also came out when I happened to shine a light under the rock ledge.
Habitat
Miura Peninsula Arasaki
It was found near the seafloor in Arasaki at a depth of 2-3m. After chasing the butterflyfish and lighting up the bottom of the rock ledge, a fish of a color and shape I had never seen before appeared. I took a picture because there was no sign of running around the front and back of the sea urchin.
Video
The vide of Honshu pipefish.
Came out of the ledge a little.
Pictures
Introducing a picture of Honshu pipefish.