 Ashy minivet
The Japanese name comes from the squeaking sound of Hiriri.
| | |
| --- | --- |
| Scientific name | Pericrocotus divaricatus |
| English name | Ashy minivet |
| Japanese name | Sanshokui |
| Classification | Aves |
| Classification details | Passeriformes Campephagidae |
| Full length | about 20cm |
| Distribution | Widely distributed from Asia to Eurasia |
Characteristics
A two-tone wild bird of white and dark gray. The top of the head and eye line are black, and the forehead is white. The dorsum of the body is gray to black. The belly is light gray. The tail feathers look like a bunting, but they are not W-shaped. Females have lighter gray heads than males.
Calls
It is characterized by a voice called ''Hiriri'', and it is said that this call was called ''Sanshokui'' because it was called ``Hirihiri'' when eating spicy food.
Subspecies Ryukyu salamander
There are two species of salamanders, the subspecies Pericrocotus divaricatus divaricatus and the subspecies Pericrocotus divaricatus tegimae, both of which have been confirmed in Japan. Ryukyu salamanders have also been confirmed in Honshu.
In terms of morphology, the size of the forehead and the color depth of the back are different between the two subspecies. The photo on this page is probably a subspecies Ryukyu salamander.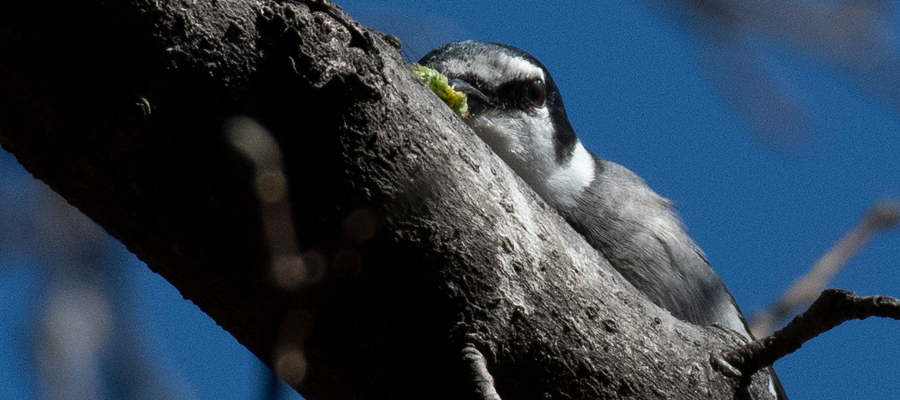 Ecology
They live in deciduous broad-leaved forests and catch and eat insects on the trees. They sometimes move in flocks of several birds, or are mixed in mixed flocks of cara such as great tits.
Build a nest with moss and breed.
Habitat
Katakura Castle Ruins Park
When I was taking a walk on New Year's Day, I saw a black and white individual that was slightly larger in a mixed flock of callas. Upon closer inspection, it was a salamander. At first glance, I thought it was a bird that looked like a titmouse stretched vertically.
In a nearby branch, there was a light-colored individual that seemed to be a female. They seemed to be a pair.
When I checked the photos carefully after returning home, it seems that it was a subspecies Ryukyu Sanshoukui.
Pictures
Introducing a picture of Ashy minivet.