 Pale grass blue
butterflies that can be seen even in the city
| | |
| --- | --- |
| Scientific name | Zizeeria maha |
| English name | Pale grass blue |
| Japanese name | Yamatoshijimi |
| Classification | Insecta |
| Classification details | Lepidoptera Lycaenidae |
| Full length | 9-16mm |
| Distribution | Honshu and southwards |
Characteristics
Lycaenidae that can be seen up close. The upper side of the male's wings is gray with a blue tint, almost black. Females are black in color. The underside of the wings is light gray with brown spots. There are two crests along the edge of each wing. Both forewings and hindwings have a small letter-shaped pattern in the center of the wing. The color changes depending on the season, and when the temperature drops, the ground gray approaches black.As long as the oxalis, which the larvae feed on, are present, they can be seen even in the city.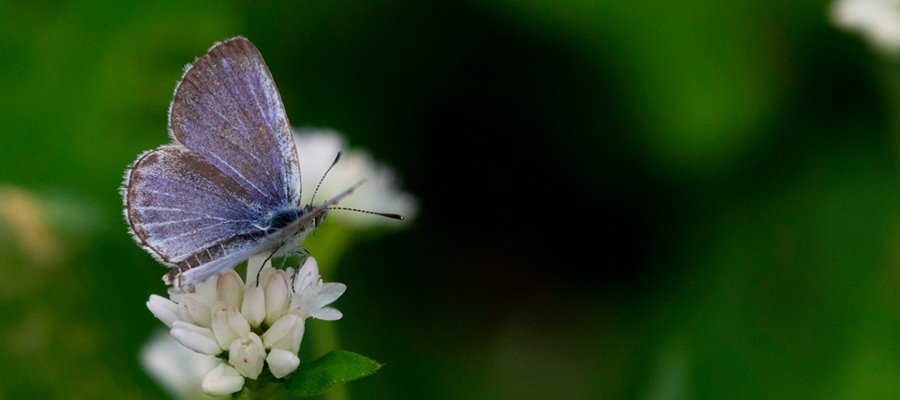 Ecology
Inhabits flat roadsides and cultivated land. It can also occur in urban areas if wood sorrel, which the larvae feed on, grows. The larvae that feed on the leaves of the sorrel hatch in 5 to 6 days and become adults after a larval period of about 2 weeks and a pupa period of about 6 days.
Adults suck nectar from short flowers. Clouds and mantises are natural enemies.
Habitat
I took a picture of him flying around in Katakura Castle Ruins Park, Hachioji City. The wind was blowing and the wings were often closed, so I had to wait for a while before observing the upper side of the wings. When the wind subsided a little, I gently opened my wings and was able to photograph the deep blue on the front side.
You can often see the Corbicula japonicum on the roadside, but if you take a closer look, the rows of patterns that line the edges of the wings look really stylish.
Pictures
Introducing a picture of Pale grass blue.