Little Tern
The sudden descent from hovering is splendid.
| | |
| --- | --- |
| Scientific name | Sterna albifrons |
| English name | Little Tern |
| Japanese name | Koajisashi |
| Classification | Aves |
| Classification details | Charadriiformes Laridae |
| Full length | 24cm |
| Distribution | Breeds in mid-latitudes and winters in Australia and Africa. It comes to Honshu and southwards as a summer bird. |
Characteristics
A waterside summer bird with distinctive elongated wings. The whole body is light gray on the upper surface, white from the neck to the belly, and black on the head as if wearing a helmet. The eye line and eye color are the same black as the head, but the area from the forehead to the base of the beak is white in an inverted triangle. The long, sharp beak is bright yellow with a slightly black tip. The legs are pink. Its tail feathers are elongated like a swallow, giving it an elegant feel when flying.
Calls
When flying, it makes a short call, "Kyu" "Kyui". I feel that the volume is a little smaller than the seagull.
Origin of name
If you write Koajisashi in kanji, it becomes "Ko-Ajisashi(small horse mackerel)". "Ajisashi" does not mean horse mackerel sashimi, of course, but comes from the idea of catching fish by diving in a river or sea. Depending on the region, it is also called "Ayu-taka(sweetfish hawk)".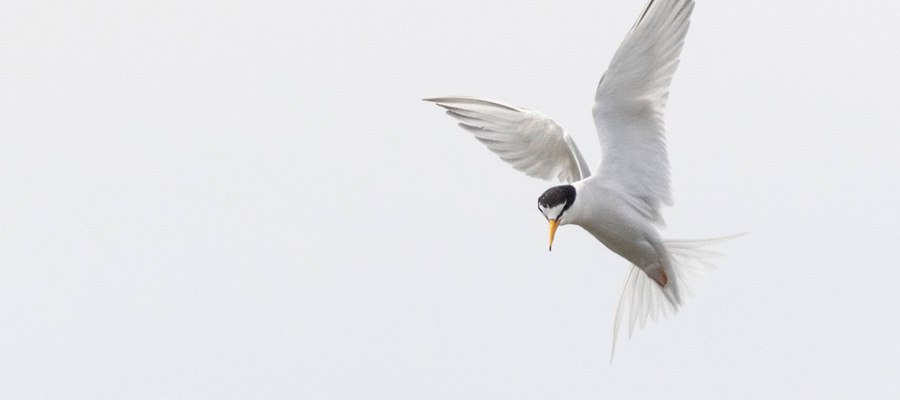 Ecology
They come to Japan as summer birds and breed. It is characterized by the way it dives to catch fish from the sky. It searches for prey by shaking its head from side to side, and when it finds a good spot, it hovers, aims for a few seconds, and dives vertically into the surface of the water. During the breeding season, males perform courtship feeding.
Breeds by forming colonies on sandy beaches. The chicks are very cute and have a gray color similar to the color of sandy ground.
Habitat
Tama River
I photographed an individual taking food in a place where the water surface of the Tama River is calm. After catching a fish with a brilliant dive, it flew straight to the place where the female was, and immediately returned to start hunting again. When another male approached, he got into a fight and increased his speed and chased him around.
Its wings are long relative to its body, so its hovering form and silhouette when diving headlong look especially beautiful.
Pictures
Introducing a picture of Little Tern.