 Common Kestrel
small peregrine falcon that lives in farmland
| | |
| --- | --- |
| Scientific name | Falco tinnunculus |
| English name | Common Kestrel |
| Japanese name | Chogenbo |
| Classification | Aves |
| Classification details | Falconiformes Falconidae |
| Full length | 30-40cm |
| Distribution | Distributed in Eurasia and Africa |
Characteristics
A small falcon the size of a pigeon. It has brown wings and yellow legs. Males and females have different head colors, with males grayish and females brown. Females are also larger. The beak and eye rings are yellow with a vertical black band under the eyes.
Calls
It cries with sharp voices such as "kick-kick-kick" and "kick-kick-kick".
Hovering Kestrel
The appearance of hovering when looking for food from the sky above the fields is also characteristic. When it finds food, it rushes in a straight line.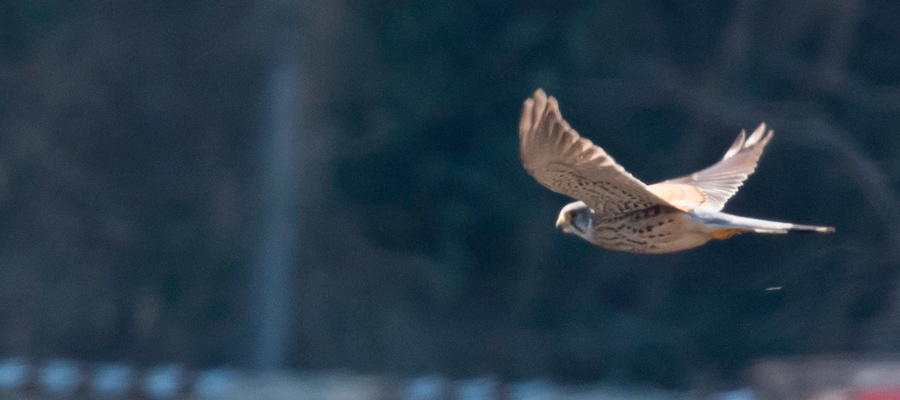 Ecology
It looks for food in places with good visibility such as fields and riverbeds. Sometimes they are perched in places with good visibility, such as on poles or poles. In addition to small animals such as insects and frogs, they may also attack small birds.
Breeds using side holes in cliffs and holes in trees as nests.
Habitat
Sagami River, Kanagawa Prefecture
Found in farmland along the Sagami River in Kanagawa Prefecture. It looked like it was looking for food on a telephone pole. It flew occasionally and changed places, but it flew relatively slowly.Perhaps because of its small size, the flapping of its wings as it took off looked somewhat like a wild bird other than a bird of prey, such as a pigeon.
Hunting Kestrel
In the same farmland along the Sagami River that I had previously discovered, I observed kestrels catching greenfinches. The house suddenly became noisy, and the greenfinch scattered in all directions. A kestrel swooped down from a height of about 20m and crashed into the ground. After catching one greenfinch, it flew towards the mountains.
Farm road in Takatsuki Town, Hachioji City
In Takatsuki-cho, Hachioji City, it was perched at the end of a utility pole on a farm road facing the Akigawa River. The electric poles around me seemed to be favorites of kestrels, and many of them had white droppings on them.It was mobbed by crows and went back and forth between the riverbed and the farm road.
Pictures
Introducing a picture of Common Kestrel.