 Hagenomyia micans MacLachlan
The larva is an ant. Beautiful translucent wings.
| | |
| --- | --- |
| Scientific name | Hagenomyia micans MacLachlan |
| English name | Hagenomyia micans MacLachlan |
| Japanese name | Usubakagero |
| Classification | Insecta |
| Classification details | Neuroptera Myrmeleontidae |
| Full length | about 4cm. |
| Distribution | Distributed all over Japan. |
Characteristics
Mayfly with wings that can be seen through the body. The body color is dark brown and the legs are cream colored. The thin wings that give it its name have black veins running through them, giving it a pattern of irregular polygons. The color of the wings is not completely transparent, and they reflect light in blue or purple to show a glass-like color. It has white spots on the ends of its wings. At first glance, it looks like a dragonfly, but it is characterized by the sense of touch that extends from its head.
It looks like an "X" in flight because it flaps its long wings. The flight speed is not fast, and you get the impression that it is wobbly.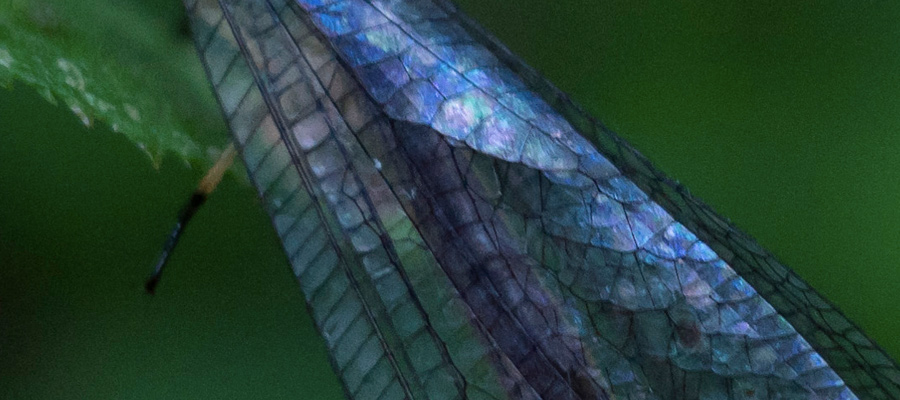 Ecology
The larvae of the Anthrax are known as 'Arijigoku' (ant hell), and they dig a mortar-shaped hole in the dry ground and catch and eat insects that pass nearby. It was thought that Arijigoku does not excrete, but in 2010 it was discovered that an elementary school student in Sodegaura, Chiba Prefecture, does urinate.
Adult antlers live for several weeks. Prey and eat insects.
Habitat
In the woods of Minamiasagawa-cho, Hachioji City, I found it flying around. After a while, I took a picture of it landing on a leaf. It did not run away even when approached, so I was able to photograph the wings reflecting blue and purple.
At the base of the tree in my home, there is a nest of antler antler, and I often dug it up and observed it when I was little. When you put it on the ground, it doesn't move at all, so it looks weak at first glance, but if you wait patiently, it will start to move like jumping. Contrary to its appearance, the belly part is quite soft, and I remember being surprised when I touched it for the first time.
Pictures
Introducing a picture of Hagenomyia micans MacLachlan.